Resources and Links
Please click on an item in the list of resources. You can also get a variety of resources at www.umc.org
Devotions
We believe that time with the Lord is most important to developing a relationship with God.  Take a few minutes out of your day with the following sites: For all:  The Upper Room
For Teens:  Devozine
For Young Children:  Pockets
'Sight Psalms' is a new daily devotional intended to help people reflect on God's presence in their lives through the use of images.
Bible Reading Plans
Did you know that you can set up free reading plans on your smartphone or computer?  Just click on the Bible to link to YouVersion.com to set up a plan or download a free app!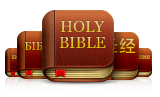 Rethink Church
Try
Rethink Church
– a spiritual place for you  to question, discuss, get involved and make a difference!
Bible Search
A great source for finding Bible verses, different Bible versions or translations, topics, etc is:
Humor

A fun and easy to learn format explaining different parts of the church and worship service.
Library
The Stevensville United Methodist Church Library offers materials including books, magazines, DVDs and CDs.
Borrowing policy:  Books may be checked out for 4 weeks.  DVDs, magazines, CD's and spoken word CD's may be checked out for two weeks.  The Library team hopes you enjoy the many titles in our adult non-fiction, adult fiction, young adult, junior reader's and children's easy section. We appreciate that you return borrowed materials when due.
We would also like to thank those who have donated books to our library.
Webinars
These training sessions provided by Discipleship Ministries are made possible by support given to the World Service Fund.